Air Passenger Protection Regulations
Notice to Passengers
If your flight is interrupted:
Thunder Airlines Limited (Thunder Air or Thunder) will keep passengers regularly informed if there is a flight interruption. Status updates of flights will be provided every 30 minutes until a new departure time has been set.
Passengers will be provided information on the nature of the interruption as soon as practical through
Face to face contact via our customer service agent

Waiting room public address announcement (where applicable)

Flight information display screens in the airports where available.
Persons with disabilities may choose their preferred method of communication within the existing options provided by Thunder Air.
Depending on the length and type of the delay, Thunder Air may provide meals vouchers. Below is a breakdown of compensation you may be entitled to: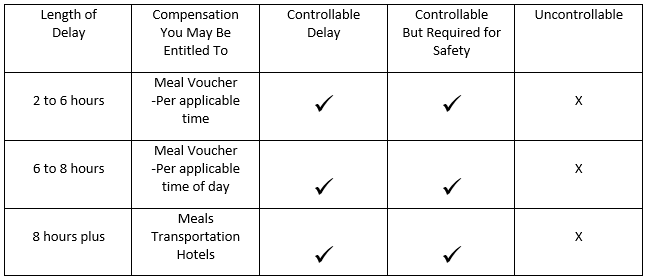 If at any point in the unlikely event Thunder Airlines aircraft are delayed on the ground for an extended period of time, Thunder Airlines will ensure the comfort and safety of our passengers by providing food, water, and access to working lavatories.
Denied Boarding (Overselling of flights)
Thunder Airlines does not overbook or oversell flights. In the unlikely event this does happen, we must look for volunteers from all confirmed passengers before denied boarding may occur. In the unlikely event of denied boarding within Thunder Airlines control, a passenger may be entitled to compensation. Below is a table outlining the timelines of impact to the customer and associated compensation rates:

Thunder Airlines will issue the compensation amount within 48 hours Monday-Friday 9-5pm.
Lost or damaged baggage
Thunder Airlines maximum liability for lost, delayed or damaged baggage is up to $2100.00 CAD per person, per incident. Passengers may be entitled to this compensation in the event baggage has been lost or damaged beyond normal wear and tear.
A passenger must file a claim for expenses with the airline. For damaged baggage, the claim must be submitted within 7 days after the passenger receives the baggage. For potentially lost baggage, the claim must be submitted within 21 days after it was supposed to arrive.
If you suspect your baggage has been lost or damaged, we recommend you notify a customer service representative at your destination within one hour of flight arrival.
Transportation of musical instruments
Thunder Airlines will allow musical instruments to be carried onboard providing they meet the carry-on size and weight requirements.
Instruments may also be accepted as checked baggage as long as they are properly packed in a hard sided case and meet the size requirements. Thunder Airlines will not accept instruments as checked baggage if they are not packaged properly (i.e. a soft sided case).
Should musical instruments be damaged or lost during travel, where the damage or loss is the result of mishandling by Thunder Airlines, the maximum liability is $2,100.00. In such instances the passenger must provide Thunder Air with proof of original receipt or a professional appraisal.
Seating of children under the age of 14 years
Thunder Airlines has an open seating plan. Children under the age of 14 will be seated across the aisle from their parents, guardians, or travel companions at no additional cost. Thunder Airlines counter staff and flight crew will carry out these requests.
Flight Disruptions
Thunder Air will provide passengers with information on the applicable standards of treatment and compensation. Thunder Air will also advise passengers of their recourse options, including the ability to make a complaint to the Canadian Transportation Agency.
The table below outlines Thunder Airlines compensation rates:
A passenger will have one year to make a compensation claim with Thunder Airlines for a disrupted flight. Thunder Airlines has 30 days to respond by issuing a payment or indicating why it is believed that compensation is not owed.
Compensation may be offered in monetary form or in the form of a voucher. The passengers will always have the right to select what method of compensation they prefer. As well, alternative forms of compensation offered will be of higher value than the monetary compensation that is required and these vouchers will never expire.
Standards of Treatment
Thunder Airlines will provide the following standards of treatment for passengers for delays at departure that are within our control, or within our control and required for safety purposes.
After a delay at departure of 2 hours, Thunder Airlines will provide:
-Food and drink in reasonable quantities; and
-electronic means of communication (e.g., free wifi, access to a phone)
In cases where a delay is expected to extend overnight, Thunder will provide hotel or other comparable accommodation free of charge, as well as no charge transportation to the accommodation.
Rebooking and Refund
For all types of flight delays or cancellations, Thunder Airlines will ensure that passengers complete their itinerary (that is, reach their final destination). Once a delay reaches 3 hours, Thunder Airlines will offer to rebook the passenger on the next available flight.
If a flight delay or cancellation is within Thunder Airlines control or within our control and required for safety purposes, Thunder Air will rebook passengers in the same class of service.
If a flight or cancellation is within Thunder Airlines control (and not required for safety purposes), and rebooking does not meet a passenger's travel needs (e.g., there is no longer any purpose to the travel), the passenger will be entitled to a refund of their ticket, as well as a $125 travel credit as compensation for the inconvenience. The passenger is responsible to apply for the travel credit.
For further information visit: https://www.thunderair.com
For passenger protection questions or complaints, contact: https://www.thunderair.com/customer-feedback
To file a complaint with the Canadian Transportation Agency, visit: https://rppa-appr.ca/eng
For all new regulation highlights, visit: https://otc-cta.gc.ca/eng/air-passenger-protection-regulations-highlights